Latest News

Newest completed Paintings are :
"Lavender Girl"
About this site

Thank you for your vist to my site,I hope that you enjoy my Art and This site will be updated usually every week to include more variety of various subjects I enjoy to paint.


If you see a painting that you really Like and would like to buy then feel free to email me For Information and Price.
I am really happy always to hear your comments in the guest book and enjoy your suggestions you Email me.
Site Enhancements

I am Still getting many enquiry about availibility of my work In other countries and I can say that I do send my work to Some Europe countries and North America/Canada only at the moment, for other Areas Please Email me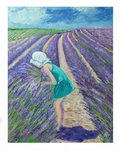 "Lavender Girl"
Click on thumbnail to see Image
Send Me an email